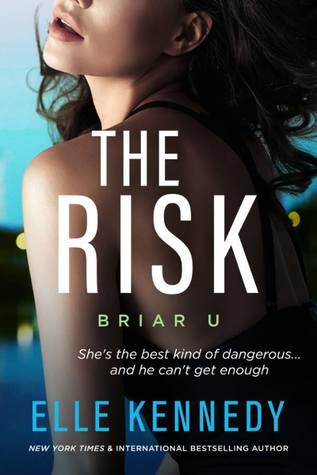 A sexy standalone novel from New York Times and international bestselling author Elle Kennedy. THE RISK takes you back to the world of hot hockey players, feisty heroines, bro banter, and steamy scenes...

Everyone says I'm a bad girl. They're only partly right—I don't let fear rule me, and I certainly don't care what people think. But I draw the line at sleeping with the enemy. As the daughter of Briar's head hockey coach, I'd be vilified if I hooked up with a player from a rival team.

And that's who Jake Connelly is. Harvard's star forward is arrogant, annoying, and too attractive for his own good. But fate is cruel—I require his help to secure a much-coveted internship, and the sexy jerk isn't making it easy for me.

I need Connelly to be my fake boyfriend.

For every fake date…he wants a real one.

Which means this bad girl is in big trouble. Nothing good can come from sneaking around with Jake Connelly. My father would kill me, my friends will revolt, and my post-college career is on the line. But while it's getting harder and harder to resist Jake's oozing sex appeal and cocky grin, I refuse to fall for him.

That's the one risk I'm not willing to take.
Oh. My. God. The Risk was EVERYTHING that I look for in a book. It had angst, it had hilarious laugh out loud moments, it had banter, it had characters that you can't help but love, it had drama, it had it ALL! I was hooked into Brenna and Jake's story from the very start; I didn't want to put it down. At one point I laughed so hard I had tears running down my face.
If there was an award for some of the best back and forth banter between characters, I would give it to Brenna and Jake. These two are the very definition of enemy to lovers and I loved each and every moment of these two picking on each other, teasing each other just added to the sexual chemistry and tension between them. I knew sparks would fly and these two would ignite when they finally gave in and boy did they ever. Now it must be said, Hazel, Jake's best friend, well she needed to be cross checked into the boards, hard for what she tries to do. If you are a hockey fan you will know what I meant by that.
Even the secondary characters had me cracking the hell up more than once. I mean Hollis, I am laughing now because of what he umm goes through with a, well I can't say but you will find out when you read the book because if anyone deserves it, Hollis does.
Elle Kennedy knows how to write New Adult romances and she does an exceptional

job at them. The Risk is one of my favorite books from her yet and I can't wait to read the next book in this series. The Risk is one of the best books I have read so far this year and is one that I can easily say you need to read NOW!