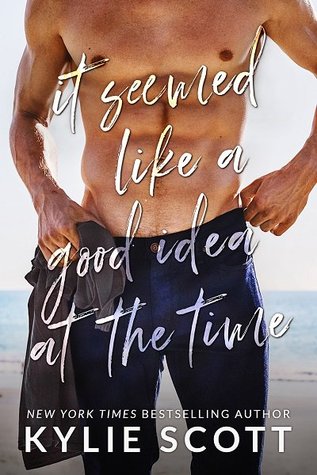 Returning home for her father's wedding was never going to be easy for Adele. If being sent away at eighteen hadn't been bad enough, the mess she left behind when she made a pass at her dad's business partner sure was.
Fifteen years older than her, Pete had been her crush for as long as she could remember. But she'd misread the situation—confusing friendliness for undying love.
Awkward. Add her father to the misunderstanding, and Pete had been left with a broken nose and a business on the edge of ruin. The man had to be just as glad as everyone else when she left town.

Seven years on, things are different. Adele is no longer a kid, but a fully grown adult more than capable of getting through the wedding and being polite. But all it takes is seeing him again to bring back all those old feelings.

Sometimes first loves are the truest.
When I first started It Seemed Like A Good Idea At The Time, I wasn't sure how I was going to like this one. It took me a bit to get into it, and while normally books that go back and forth from the past to the present usually do not bother me I think it threw me off for a bit. However, once I was into the complexity of Pete and Adele's past and fully understood the tension, animosity and underlying anger I was unable to put this book down.
I am not going to spoil the book, so I am not going to go into the reasons of what happened seven years prior between Pete and Adele, but I do think I could have understood Pete's character a bit more if we would have had his POV. The back and forth, the hot and cold, the tension could have been explained more if we had his side.
I think Kylie Scott took a risk with It Seemed Like A Good Idea At The Time, and that risk paid off. It is different than what we are used to from her and I liked the change. This book while I had minor issues that really aren't worth mentioning, was one that I thoroughly enjoyed and one that needs to be on your TBR list.