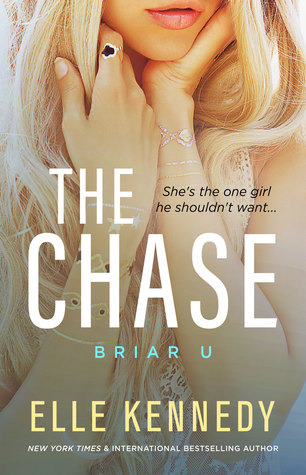 Everyone says opposites attract. And they must be right, because there's no logical reason why I'm so drawn to Colin Fitzgerald. I don't usually go for tattoo-covered, video-gaming, hockey-playing nerd-jocks who think I'm flighty and superficial. His narrow view of me is the first strike against him. It doesn't help that he's buddy-buddy with my brother.
And that his best friend has a crush on me.

And that I just moved in with them.

Oh, did I not mention we're roommates?

I suppose it doesn't matter. Fitzy has made it clear he's not interested in me, even though the sparks between us are liable to burn our house down. I'm not the kind of girl who chases after a man, though, and I'm not about to start. I've got my hands full dealing with a new school, a sleazy professor, and an uncertain future. So if my sexy brooding roomie wises up and realizes what he's missing?

He knows where to find me.
The Chase by Elle Kennedy is the first book in the Briar U series and I absolutely LOVED it. I loved Sumer and Fitz, I loved the angst, I loved the chemistry, I loved the buildup even when I wanted to shake Fitz and scream for him to stop being an idiot, I loved the other characters, basically I loved it all if you can't tell.
Summer has crushed on Fitz for years, but when she over hears him talking about her, her heart breaks because of what he says. She transferred to Briar U for, well I won't say why because you need to read the book to find out, and her start has not been a great one. Fitz adds to it by hurting her feelings more than once, don't get me wrong I loved Fritz but boy did I want to kick him more than once. Fitz and Summer balance each other out, they have amazing chemistry especially in the bedroom.
The Chase has me excited for more books in this new series. I can't wait to see who all gets books because if I am being honest, I want them all to have books, but I am a book whore after all and can't get enough. Elle Kennedy is an author that I love and an automatic buy. The Chase is one book that needs to be on your TBR list for sure.